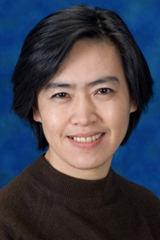 Shijie Sheng, Ph.D.
Office Address
Department of Pathology
540 East Canfield Avenue
Detroit, MI 48201
Administrative Contact
Pathology Department, Brenda Batts, Phone: (313) 577-1102; KCI T&M Program, Janice Akoury, E-mail: akouryj@karmanos.org
Position Title
Professor
Leader of the Tumor & Microenvironment Program, The Karmanos Cancer Institute
Education Training
Ph.D. (1993): University of Florida College of Medicine, Gainesville, FL, USA

Postdoctoral Fellowship
1993-1997: Harvard Medical School, Dana Farber Cancer Institute, Boston, MA, USA

Areas of Interest
Prostate cancer, invasion and metastasis, drug sensitivity, tumor suppressor, and maspin
Research Interests
The Sheng laboratory investigates the underlying molecular mechanisms of prostate tumor progression, metastasis and drug sensitivity, using a full spectrum of cancer biology methodologies. Specifically, the lab studies maspin, a novel tumor suppressive serine protease inhibitor. Dr. Sheng and colleagues have shown that epithelial-specific maspin inhibits tumor invasion and metastasis, and maspin sensitizes tumor cells to drug induced apoptosis. Interestingly, maspin does not inhibit any active serine proteases. Recently, the Sheng lab identified histone deacetylase 1 (HDAC1) and pro-urokinase type plasminogen activator (pro-uPA) as the molecular targets of maspin. These breakthroughs are of potentially high impact and clinical significance. The focus of a current project in the Sheng laboratory is to study how maspin blocks pro-uPA-mediated stromal remodeling in bone microenvironment, a preferred site for prostate tumor metastasis. Another project investigates the hypothesis that by inhibiting HDACA1, maspin sensitizes tumor cells to drug-induced apoptosis while preventing adverse epithelial dedifferentiation.

Publications