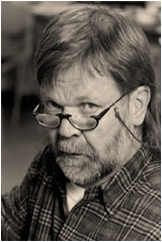 Markku T. Kurkinen, Ph.D.
Office Address
3204 Scott Hall
540 East Canfield
Detroit, MI 48202
Position Title
Professor
Areas of Interest
Extracellular matrix; metalloproteinases; gene regulation; development.
Publications
Olsson M, Ekblom M, Fecker L, Kurkinen M, Ekblom P. cDNA cloning and embryonic expression of mouse nuclear pore membrane glycoprotein 210 mRNA. Kidney Int. 1999;56(3):827-38.

Jayaraman G, Srinivas R, Duggan C, Ferreira E, Swaminathan S, Somasundaram K, Williams J, Hauser C, Kurkinen M, Dhar R, Weitzman S, Buttice G, Thimmapaya B. p300/cAMP-responsive element-binding protein interactions with ets-1 and ets-2 in the transcriptional activation of the human stromelysin promoter. J Biol Chem. 1999;274(24):17342-52.

Yang M, Kurkinen M. Related Cloning and characterization of a novel matrix metalloproteinase (MMP), CMMP, from chicken embryo fibroblasts. CMMP, Xenopus XMMP, and human MMP19 have a conserved unique cysteine in the catalytic domain. J Biol Chem. 1998;273(28):17893-900.